Get your
Future of Travel
Training Program
How can a Future of Travel training program help? The recent global events have shaken the tourism and travel industry to its core. To create resilient marketing strategies, the industry operators must be able to shift their narrative and adopt a traveler-centric mindset first.
Global uncertainty has affected travellers' brand trust, market positioning, and the desired financial results of tourism and hospitality operators.
Dolores' Training Programs go beyond the typical call of 'who is your ideal client?' and evolve around how to develop and establish a tone of voice that inspires trust in the post-pandemic travellers.
THINK TOMORROW
In this training. we are building the future of travel by challenging existing paradigms
ONE MESSAGE
A confused mind never buys. We learn how to go out with one clear message that speaks directly to your audience
NO MORE BOXES
This training helps get rid of the box, disrupt the status quo and empowers initiative 
IT'S HUMAN
Always putting people first, this tourism marketing training program is designed by humans for humans
WHAT WILL YOUR TEAM LEARN
Tourism Destination Marketing
Feedback from the training sessions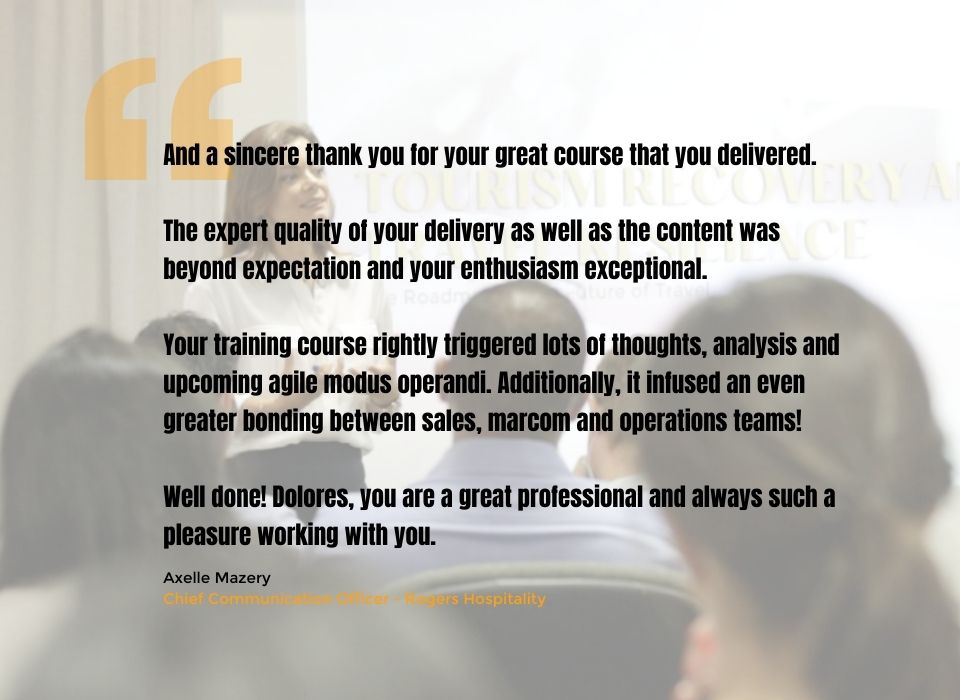 A digitally well-versed travel audience wastes no time.
That is why knowing how to anticipate digital behaviors is essential.
Who should attend
What will you learn
S&M and Communication Hospitality Professionals
Tourism and Travel Entrepreneurs
Business Owners in the Hospitality and Travel industry
Independent Travel Agents and Agency Owners
Identify the core needs of today's travelers and master their digital habits
Build credibility and trust across the tourism industry
Develop agile leadership in tourism
Establish a bespoke customer's digital journey for the business
Learn how to generate evergreen tourism marketing content