EU Digital Covid Certificate. All We Need to Know.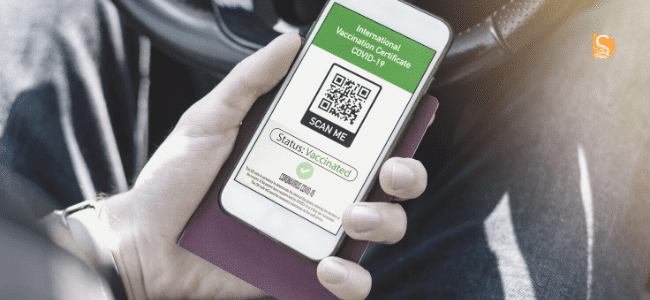 This week – precisely on June 14, 2021 – the Presidents of the three main European Union Institutions, namely The Parliament, The Council, and the Commission, have signed the Regulation Document that approves the implementation of the EU Digital Covid Certificate – Originally called: Digital Green Certificate – as of 1st of July 2021. In this article, my aim is to offer some clarity on what this Certificate is and what does it mean for European Travelers.
On Truth Behind Travel Podcast Episode 28 – back in April 2021 – we talked about The Digital Green Certificate and the IATA Travel Pass. Today, the digital green certificate comes back approved and re-branded as EU Digital Covid Certificate. Mind you – not passport – Certificate.
In Episode 34, we pick up where we left the conversation on vaccine passports and explored in-depth all we need to know about the EU Digital Covid Certificate
What does that mean?
EU Digital COVID Certificate is digital proof that a person has either:
been vaccinated against COVID-19
received a negative test result
recovered from COVID-19
What is digital proof? The Certificate comes as a QR code in digital or paper format, The digital version can be stored on a mobile device but you can also request a paper format if you want it, it is free of charge and available in your own national language and English. It's valid across the EU countries.
Tons of questions have started to pour in since the announcement this week:
Do I need one?
How can I get one?
I am not vaccinated, what happens?
The EU Digital COVID Certificate is not a pre-condition to free movement, but rather the end product of a regulatory system that coordinates travel restrictions across Europe. This means that European Member States may or may not impose further travel restrictions on individuals entering their countries – even if they have an EU Digital COVID Certificate.
What are the technicalities involved in having an EU Digital COVID Certificate?
An authorized or shall I say better – recognized – facility such as a hospital, testing center or health authorities are able to issue the EU Digital COVID Certificate based on one of these three conditions:
the person is vaccinated
A person has tested negative for Covid-19
the person has recovered from Covid-19
Sounds easy, but there's more to know:
for vaccinated individuals, all traveling restrictions are lifted only if a person has received one of the EU-wide Marketed and Approved Vaccines (namely Pfizer/BioNTech, AstraZeneca/Oxford University, Moderna, and Johnson & Johnson.) other vaccine certificates are at the discretion of the state members for them to allow them in or not.
Also – the Certificate is issued to any person who received a COVID-19 vaccination in an EU Member State, irrespective of the number of doses.
for tested individuals, the results are only valid 72 hours for PCR tests and, where accepted by a Member State, 48 hours for rapid antigen tests. Self-tests are not recognized by the EU Digital COVID Certificate
for recovered individuals, the maximum validity period of the certificate of recovery at 180 days after you've had Covid-19
Download the certificate factsheet here
So, let's say you are one of these three individuals and you want to travel, how does it work?
Pending you fall into one of these three conditions, the EU Digital COVID Certificate is issued. It contains a QR code with a digital signature that identifies the institution/lab/hospital that has produced the Certificate and guarantees its authenticity. So it's not your digital signature. It is the digital signature of the institution/lab/hospital where you are getting the Certificate from.
The QR code on the certificate is checked or scanned and the signature is verified when you travel. This would ideally mean that you can then enter your EU country of choice without being affected by further travel restrictions. For example quarantine, self-isolation, or further testing. I say ideally because while this is the recommended procedure. In the end, each country member of the European Union has the final call on the entry procedures. Basically on who comes from where and does what.
So technically, your data is not cross-stored but the digital signatures yes, and the gateway that allows verifying the digital signatures contained in the QR codes of all certificates have been built and set up by T-Systems T-Systems (a German global IT services and consulting company headquartered in Frankfurt) and SAP (System Analysis Program Development) and is hosted at the Commission's data center in Luxembourg.
So what data is stored then?
The EU Digital COVID Certificate contains your name, date of birth, the certificate issuer, and the digital signature of the certificate. In addition:
For a vaccination certificate: vaccine type and manufacturer, number of doses received, date of vaccination;
A test certificate: type of test, date and time of test, place, and result;
For a recovery certificate: date of the positive test result, the validity period.
Let's talk about which countries have already adopted and implemented the EU Digital COVID Certificate. Austria. Belgium. Bulgaria. Croatia. The Czech Republic. Denmark. Estonia. Germany. Greece. Latvia. Lithuania. Luxembourg. Poland. Portugal. Spain and Iceland (non-EU Schengen country). France and Italy will follow by the end of June 2021. The Regulation of the EU Digital COVID Certificat will remain in effect until 31 July 2022.